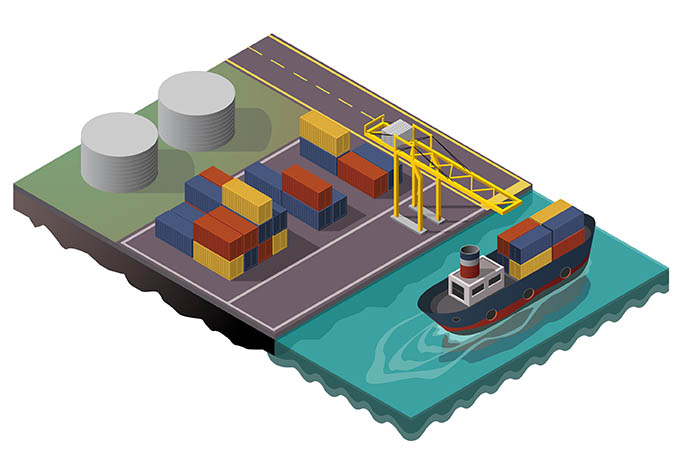 Storage solution for ports
Hosting merchant and commercial shipping, your port facilities must imperatively be equipped with a reliable and sustainable port storage solution. As a strategic sector of the economy and a national, European or even global trading platform, your sea or river port must offer highly efficient services, such as the provisioning of hydrocarbons. It is also essential that your facilities guarantee foolproof security. This is why CDE offers you its range of port storage solutions, adapted to your needs and fully customizable whatever your technical requirements and demands. 
At the heart of your port facilities, refuelling with marine diesel or heavy fuel oil represents a central issue. For your bunkering or bunkering operations, CDE designs a suitable port storage solution especially for you. In fact, increasing your storage capacity and your autonomy is essential today, in an ever-growing and ever-changing maritime and river transport sector. 
To achieve this, each hydrocarbon tank manufactured by CDE has its own technical specifications according to your requirements, from coating to storage capacity. In fact, your port storage solution can be manufactured in standard or custom sizes, with or without pressure, and intended for above or below ground, vertical or horizontal storage. In addition, our tanks and tanks are always developed in compliance with NF EN 12285-1 and NF EN 12285-2 (for atmospheric pressure tanks).
An essential complement: the fire reserve
For the safety of your facilities, your premises and the ships that transit or dock within your port, a port storage solution dedicated to security is essential. In addition, meeting your regulatory requirements for security and protection of the public or users, is an obligation as well as a moral requirement for you.
In order to comply with the regulations, CDE offers you a fire tank with a capacity of 30,000 to 150,000 litres, enabling you to fight fires for a minimum of two hours. A feature that is in line with the recommendations of the fire and safety services. This single-walled port storage solution can be pressurised or unpressurised and is designed for horizontal or vertical storage. 
To accompany your port storage solution, CDE has a range of perfectly complementary industrial equipment and accessories. Slab frame, filling limiter, cradle, inspection chamber, leak detector, manholes, bayonet gauge mouth…: a wide range of equipment is available to facilitate the installation of your tank in its entirety. 
And to make the right choice among the many options available to you, CDE provides you with the expertise of its technical advisors throughout your port storage solution project. What's more, once your tank is complete, you won't have to worry about transporting it to your site, as CDE provides delivery through its integrated logistics service.