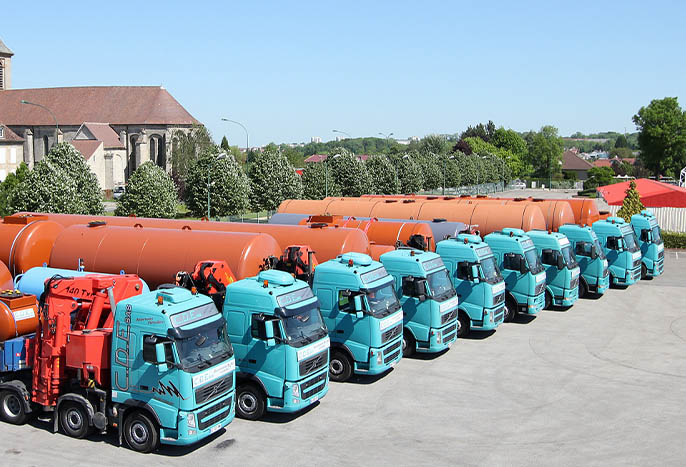 The leading French manufacturer of storage tanks, CDE provides you with its know-how in industrial storage solutions, in order to provide a precise and technical response to all your needs. We offer you a service and storage solutions that meet your requirements point by point.
For each of your objectives, CDE has a tailor-made solution: tanks and cisterns accompanied by their equipment and accessories, parts of piping and boilermaking, industrial chimneys, etc.
Our tanks and industrial solutions
If you are looking for an overhead or underground storage tank, a silo, a custom-made boiler room , large volume piping or a chimney, you need a durable and quality solution.
CDE has developed specific expertise, the fruit of its five decades of experience. CDE designs high-performance storage solutions that comply with current standards.
Historical reference for industrial storage
A long-standing player in industrial storage production, CDE was founded in 1966 by Georges Legros. Became Chaudronnerie De l'Est in 1971, the company has gradually evolved by increasing its production capacity and modernizing its production lines, to take the place of the leading French manufacturer of cylindrical tanks . Over the years, CDE has strengthened its experience and expertise, obtaining certifications proving the quality of its products, of its manufacturing processes, but also and above all of its relationships with its customers.
50 years of industrial storage production
Over the past five decades, CDE has gradually established itself as the European leader in industrial storage production.
1966 :

Beginning of a great adventure

The Etablissements Georges Legros, an eponymous company, were created and set up in Saints-Geosmes (52). They then consist of a construction line of cylindrical tanks for the storage of petroleum products. The first industrial storage production was born.

The Georges Legros Establishments evolve and are transformed into a limited company, becoming the Chaudronnerie De l'Est. A second workshop was created in 1974, dedicated to the manufacture of boilermaking on plan.

1990 :

Development of industrial chimneys

In the 1990s, CDE improved its industrial facilities and increased its production capacity. The company can then manufacture industrial chimneys, thanks to its numerically controlled machines or the computerization of its services.

1996 :

The 1st French manufacturer

The rise in know-how and in the quality of CDE allowed it to experience its first major success, by becoming the leading French manufacturer of cylindrical petroleum tanks.

From the 2000s, CDE bet on quality in terms of industrial storage production. After having obtained the certification of its quality system according to the standard NF EN ISO 9002 in 1997, the company obtained the certifications ISO 9001: 2000 in 2004 and ISO 9001: 2008 in 2009.

2015 :

Continuity and modernity

Bee-Up Capital (https://www.beeupcapital.com/) acquires Chaudronnerie De L'Est with the aim of more sophisticated industrialization of equipment and better meeting customer requirements.

2020 :

Development of the biofuels market

CDE is becoming a benchmark player in biofuel tanks and is developing its facilities to respond to a rapidly growing market.

2022 :

The future: Modernization of our production lines

CDE is modernizing its production lines with the installation of a welding robot, making its flows more reliable and enhancing the quality of its equipment.
Men and women with common corporate values and with one goal: YOUR SATISFACTION
Eric OLLIVIER
ASSISTANT Commercial director
Céline COLLIER
Commercial coordinator
Delphine LAMOTTE
Commercial assistant
Matthias BABOUILLARD
Account manager