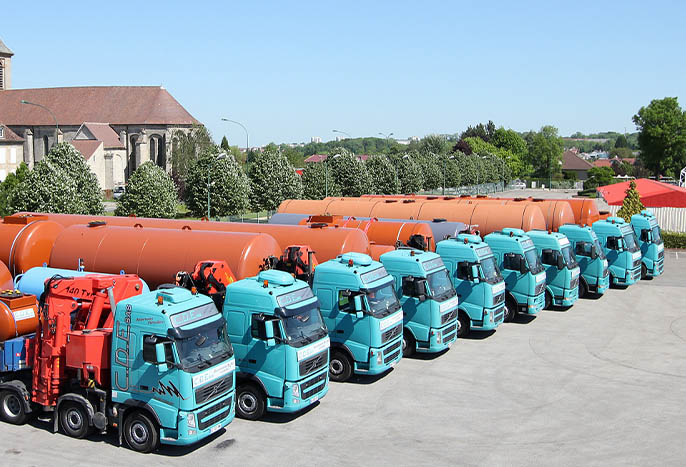 As the leading French manufacturer of storage tanks, CDE offers you its know-how in industrial storage solutions, in order to provide a precise and technical response to all your needs. Because we know your professionalism and your expertise in your field, we offer you a service and storage solutions that meet your requirements point by point.
Whether you are an industrial, service or energy company, a local authority or a farmer, we can help you to satisfy your customers, improve your productivity or ensure the safety of your facilities. For each of your objectives, CDE has a tailor-made solution: tanks and cisterns with their equipment and accessories, piping and boiler making parts, industrial chimneys, etc.
Our tanks and industrial solutions
Whether you are looking for an above-ground or underground storage tank, a silo, a piece of contracted boiler making, large-volume piping or a chimney, you need a durable, quality solution. That's why CDE has developed a specific expertise, the result of its five decades of experience. Whatever the content, from petrol to bitumen, gas, diesel, seawater or agricultural materials, CDE designs high-performance storage solutions that comply with current standards. Similarly, for your very specific orders in boiler making to plan, in custom-made steel solutions or in industrial chimneys, we work with you to define the technical specifications of the products that will best suit your facilities and your company.
Our job: to understand you
Demanding, strategic, complex: your businesses and sectors of activity require rigour and scrupulous compliance with the standards in force. Aware of these challenges, CDE is at your service, from the definition of your project to its completion. From the design stage, CDE gives you the benefit of its know-how with the informed recommendations of its technical advisors and its design office dedicated to special projects. Then, thanks to our Lean Manufacturing method, each stage of the manufacturing process is controlled. Finally, for optimal service, logistics and delivery are handled by CDE's routing department for all your tank orders.
Historical reference for industrial storage
A historic player in the production of industrial storage, CDE was founded in 1966 by Georges Legros. The company became Chaudronnerie De l'Est in 1971, and gradually evolved by increasing its production capacity and modernising its manufacturing lines, to become the leading French manufacturer of cylindrical tanks in 1996. Over the years, CDE has strengthened its experience and expertise, obtaining certifications proving the quality of its products, its manufacturing processes, but also and above all its relations with its customers.
Now the leading French manufacturer of storage tanks, CDE continues to evolve within the ALCE group. More than ever, the company is committed to continuing to optimise its production, while being part of a continuous improvement process for the benefit of its customers.