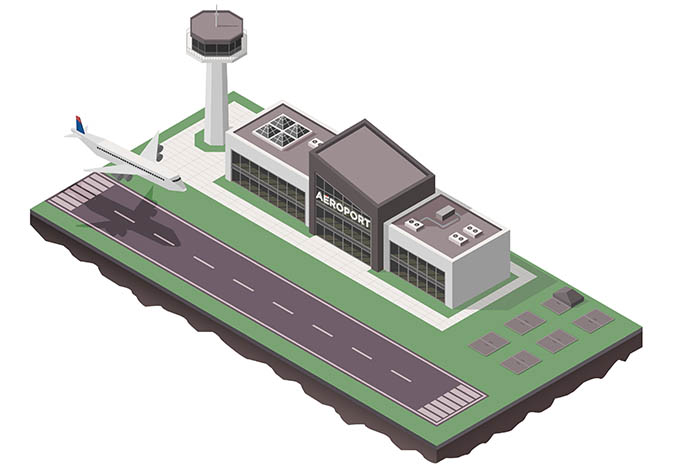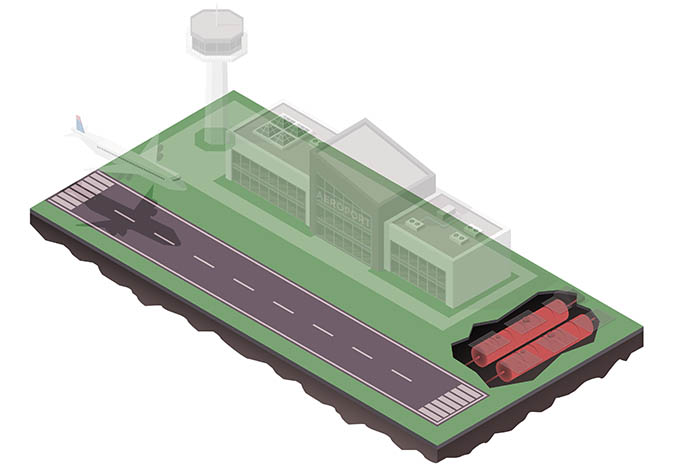 Storage solution for airports
In your business, civil aviation, we know that a reliable, quality airport storage solution is essential for your facilities and your entire business. Supply, safety, strategy: in an airport or an aerodrome, the issue of hydrocarbon tanks and fire reserves is crucial, in order to refuel planes in all circumstances, but also to protect the entire site. To meet these specific needs, CDE provides you with its expertise and its entire range of airport storage solutions. Depending on your request, our advisers can offer you suitable products and additional tailor-made services.
The airport hydrocarbon tank
To store JETA1 or AVGAS kerosene at your airport or aerodrome, an airport storage solution is essential. In fact, in the current context, increasing its storage capacity on the site itself or within a supply terminal makes it possible to increase its autonomy, while reducing the incidence of various hazards economic or climatic on its activity.
However, an hydrocarbon tank has its own technical specificities, in addition to your specific needs and requirements. That's why CDE manufactures every airport storage solution according to your demands. Standard or made-to-measure, the dimensions and components of your tanks will be perfectly suited to your activity. The industrial tanks CDE dedicated to refueling can be overhead or underground, horizontal or vertical and delivered with or without pressure (according to standards NF EN 12285-1 and NF EN 12285-2 for horizontal tanks without pressure).
The fire reserve, an essential security solution
Major safety issues, your premises and your installations must be equipped with a fire tank (or several fire reserves). To protect your buildings, your employees and the public who frequent your airport or aerodrome, we offer you an efficient and easy to implement airport storage solution. Single-walled, horizontal or vertical and with or without pressure, each fire reserve has been designed by CDE to meet storage standards in force and the instructions of the fire and rescue services. Thus, with a capacity of 30,000 to 150,000 liters, or even 180 or 200 m 3 , our airport storage solutions make it possible to fight fires.
A set of professional services
Aware of the complexity and technical nature of your installations, we do everything we can to guarantee you personalized support with our dedicated technical advisers, from the design to the manufacture of your airport storage solution. In addition, to provide you with a complete and optimal service, our storage solutions transport department takes care of the delivery of your tank or your tank, to your site or your work site.
To complete your airport storage solution, CDE manufactures and equips its accessory tanks and industrial equipment on request. Whether you want a slab frame for your underground tank, an inspection chamber, a filling limiter or a bayonet gauge cover, our technical service will study with you the appropriate solution.